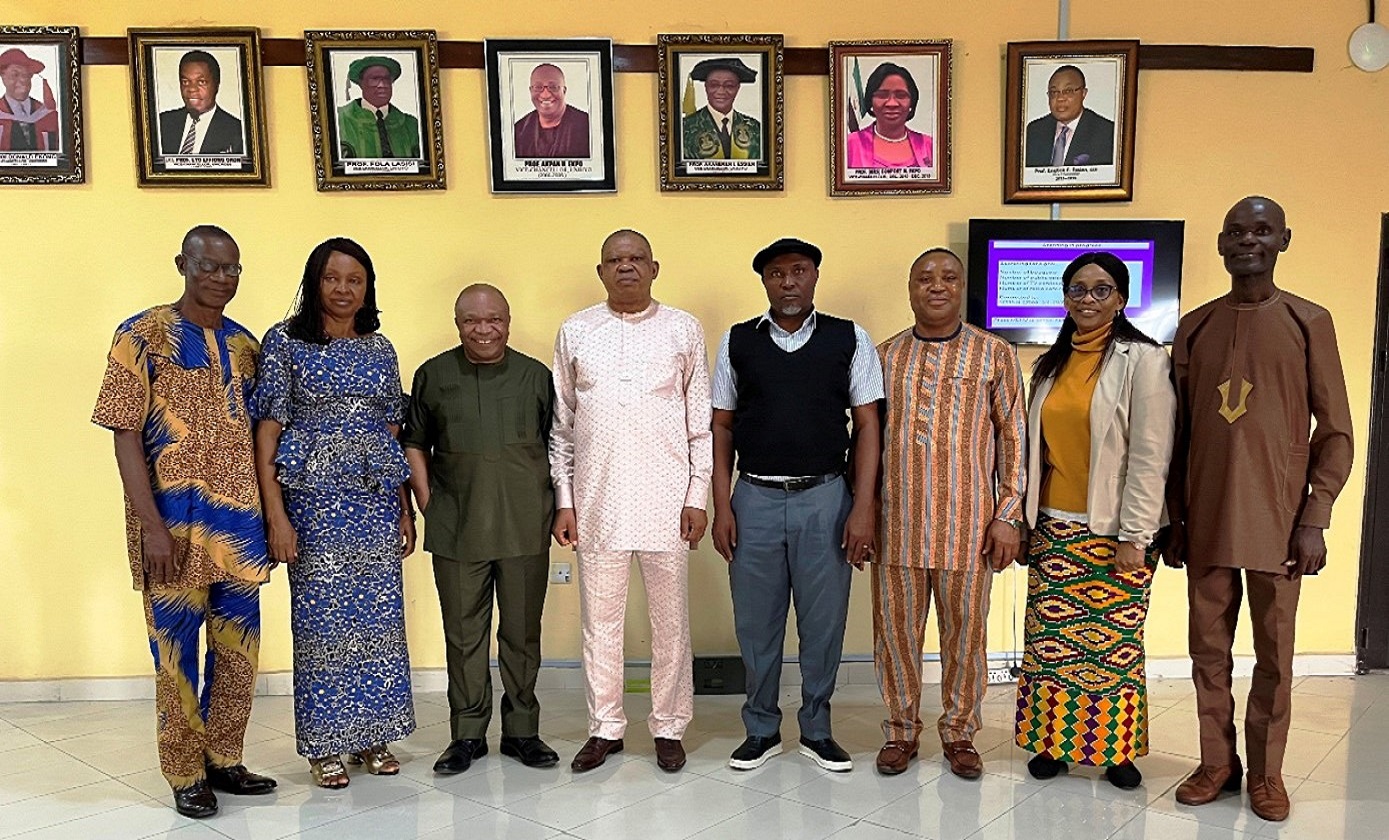 The International Centre for Energy and Environmental Sustainability Research (ICEESR) in her commitment to bringing the triple helix interactions in a developing country like Nigeria from a silico confinement to push-pull hosted a Professor of Process and Industrial Engineering and SaskPower Chair, Professor Raphael Idem, PEng, FIAAM of the University of Regina, Canada on a summer visit from August 15 to August 25, 2022.
Prof Idem was warmly received by the vice chancellor of the University of Uyo, Professor Nyaudoh U. Ndaeyo and management. The one-hour reception meeting had in attendance the Deputy Vice Chancellor Administration, Professor Enoidem B. Usoro and Academic, Professor A. P. Udoh; the Bursar, Mr. Imo Markson, the Registrar Mr. Aniediabasi Udofia, the Acting Librarian Dr. Iwat E. Udofia and the Director, ICEESR-UNIUYO, Dr. Edu Inam.
In her opening remarks, Dr. Inam remunerated the vision of the centre which included hosting of professionals from around the world to promote shared learning, collaborations and opportunities. She went on to introduce the second visiting scholar and his mission at the center
Professor Idem in his speech expressed his appreciation to the Vice Chancellor and the University management for the warm reception. He went on to state his commitment to continually work with the center to achieve her goals. In what he acknowledged as a home coming, he mentioned his desires to see the research centre operates with efficiency to compete with international centers which will in the same way put the University in top ranking internationally. As evidence of his commitment, Prof Idem shared his willingness to accept exchange students at his Centre, Centre for Technology and Research Institute (CEFTRI).
The Vice chancellor officially welcomed and assured the Akwa Ibom born Scholar of the University's commitment to international research collaborations. He also appreciated the Director of International Center for Energy and Environmental Sustainability Research for her tireless effort in putting the University on the global map.