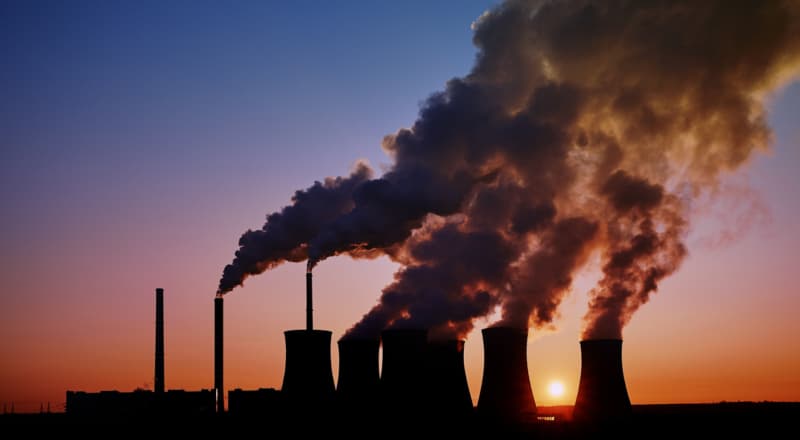 Climate Change and Pollution
We employ numerical models to explore climatic variability, climate processes, and seasonal variation of weather, onset and cessation of seasons. The group also promotes research and development on causes of climate change, climate change problems and ecosystem implications, rate of carbon/gaseous emission/greenhouse effect, ozone layer depletion, genetic effects from climate actions, erosion and flood disaster as well as ecological and social dysfunctions from climate change. We are interested in determining the levels of water, air and land pollution; and their interrelationships with climate processes.
Our research focuses on the study of atmospheric composition, air quality and climate from the local to the global scale. We build capacity to address the distinctive climate change and adaptation necessities of vulnerable populations through trainings, proactive research, development of innovative technologies, and community participation, as well as providing expert advice for global and local contributions to policy formulation and implementation.
Climate Variability in Relation to Floodplain Erosion and Water Quality Characteristics of the Ikpa River Basin (funded by the Ministry of Science and Technology South Korea through the International Environmental Research Institute Gwangju Institute of Science and Technology in 2018)
Neutralizing the Impact of Climate Change on Plants, Animals and Environment
Assessment of the Capacity of Local Institutions to Respond to the Gender Dimensions of Climate change in Rural Communities (funded by the Government of Japan, jointly administered by the UNDP and the Federal Ministry of Environment in 2012)
Building Nigeria's Response to Climate Change (BNRCC) (funded by CIDA in collaboration with Nigerian Environmental Study/Action Team (NEST) 2009 to 2011)

2021

Inam, E., Ekpenyong, R., Offiong, N., Udotong, U., Benjamin, M., & William, N., (2021). Climate variability, land cover change and soil erosion risk implications for water quality of a humid tropical river basin in Sub-Sahanran Africa. Water Practice and Technology, 16 (1), 263 (Canada). DOI: 10.2166/WPT.2020.116

2019

Abraham, C.M. (2019): The Effect of Hydrogeomorphic Drives on Soil Particle Size Distribution and Humus Content in Kwa Iboe River Basin, Akwa Ibom State. Sahel International Multidisciplinary Journal, Federal Polytechnic, Damaturu. Vol. 3 No. 2
Ekpenyong, R. E., Shaibu, M. E. and Etim, E. R. (2019). Geospatial Analysis and Assessment of the Distribution of Petrol Stations in Uyo Capital City, Nigeria to Safeguard Human and Environmental Health. International Journal of Social Sciences, 13 (2): 82-102.

2018

Abraham, C.M., Wilcox, R.I. and Ebong, M.S. (2018): Women and Environment: Efforts so far in Erosion and Flood Control in Uyo Urban, Akwa Ibom State, Nigeria. Book of Proceedings of 2018 Annual Confernce of Environmental Management Association of Nigeria (EMAN). Pp161-171
Ekpenyong, R.E. and Ekanem E. M. (2018) "Presentation and Graphical Analysis of the Meteorological Data on Uyo". Geography and National Development. E. P. Udofia and U. J. Ituen [ed]. Uyo: EDDIVINE VENTURES NIG. A publication of the Department of Geography and Natural Resources Management, University of Uyo, Uyo, Nigeria (pp216-224).
William, N. (2018) Sahel Belt of Yobe State: Exploring the Fundamental Hydrosocial Issues and Adaptation Arrangements. Proceedings of 8th NAHS International Conference.

2017

Akpe, M. F and Solomon, V. A. (2017), 'Factors of Social Vulnerability to Climate Variability in Coastal Communities of Akwa Ibom State, Nigeria' International Journal of Agriculture and Development Studies (IJADS) 2(1): 95-107
Solomon, V. A. and Akpe, M. F. (2017), 'Social vulnerability of coastal dwellers to climate variation in rural communities of Akwa Ibom State, Nigeria' Journal of wetlands and waste management. 2(4): 47-55.
William, N, Udosen, E. (2017) Intraseasonal Variations in Onset and Cessation of Wet Season in Uyo, Akwa Ibom State: Implications on Food Security. Proceedings of 8th NAHS International Conference 2017
William, N., Oyeleke, O. (2017) Predictive Assessment of Rainfall and Crop Production Relationship in Abak Oil Palm Belt, Akwa Ibom State. Proceedings of 8th NAHS International Conference 2017.

2016

Abraham, C.M; Essien, K and Edu, O. (2016): Sand Mining and Ennvironmental Degradation of Nditung, Nsit Ibom LGA, Akwa Ibom State. Uyo Journal of Sustainable Development Vol.1. No. 1 Clement Isong Centre for Development Studies

2015

Abraham, C.M, Iniubong Ansa, Imoh, U.J. (2015): Public Perceptions on implications of Water erosion and Urban Flooding in the city of Uyo, Nigeria. Research Journal of Geography, Vol.2 No.6 Exclusive journal publishing house, India.
Ekpenyong, R. E. (2015). ''An Assessment of the Perceived Signs of Climate Change in Uyo Capital City-Akwa Ibom State, Nigeria''. Asian Academic Research Journal of Social Sciences & Humanities. Vol. 1 Issue 35.
Solomon, V. A., G. I. Okoro, Umoh, G.S, E. J. Udoh, G. E. Edet, C. A. Uwem, N. E. Bassey and O. D. Akpan, (2015), 'Impacts of Climate Variability on Wetland and Fishing Households in the Niger Delta Region, Nigeria', Asian Journal of Agricultural Extension, Economics & Sociology. 7(3): 1-9.
Solomon, V. A. (2015) 'The Capacity of Local Institutions to Respond to Gender Related Issues in Climate Change Scenery in Nigeria's Niger Delta Region' American Journal of Experimental Agriculture, 7(1): 45-54.

2014

Solomon, V. A and U. A. Asa (2014) 'Determinants of Local Institutions' Capacity to Respond to Climate Change in Akwa Ibom state, Nigeria' Journal of Agriculture and Rural Development, 13: 54-64.
Umoh, G. S, E. J. Udoh, V. A. Solomon, G. E. Edet, G. I. Okoro, C. A. Uwem, N. E. Bassey and O. Dominic (2014), 'Analysis of Upland Farm Households' Vulnerability to Climate Variability in the Niger Delta, Nigeria', Journal of South Pacific Agriculture, 17(1&2):77-90.

2013

Solomon, V. A. (2013), 'Institutional Factors Affecting the Execution of Projects by Local Institutions: Implications for Community-Based Climate Change Adaptation in Nigeria's Niger-Delta Region', Journal of Environmental Extension 11:52-59.
Solomon, V.A and Adejuwon, S. A. (2013) 'Assessing the Capacity of Local Institutions to Respond to the Gender Dimensions of Climate Change in Nigeria, http://www.climate-impacts-2013.org/files/ial_solomon.pdf Impact world conference 2013 (Germany)
Umoh, G. S, E. J. Udoh, V. A. Solomon, G. E. Edet, G. I. Okoro, C. A. Uwem, N E. Bassey, O. Dominic and E. Atairet (2013) Adaptation to Climate Change –Agricultural Eco-systems and Gender Dimensions. Xlibris LLC Publishing (UK) 145p