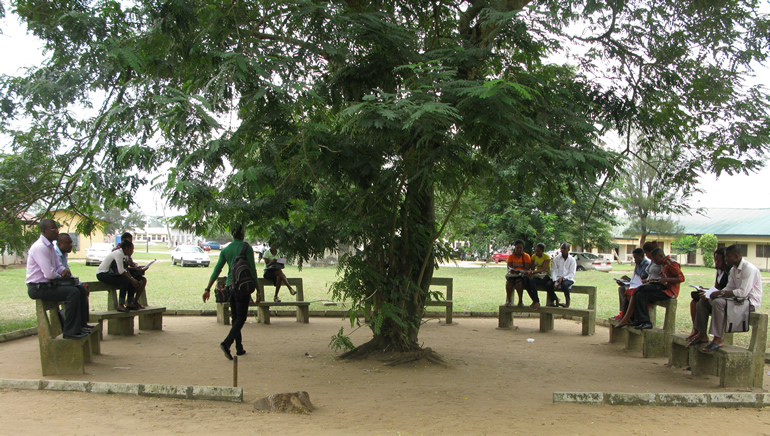 Academic Support
The ICT Directorate
To further buttress the University of Uyo's policy commitment to research and learning and realizing the overriding importance of information and communication technology (ICT), the ICT directorate was established. The UNIUYO ICT policy covers several areas such as: access management and control; software acquisition, development and usage; data and information management.
Institutional accreditation
UNIUYO has a policy of reviewing the curriculum of each of the department in the university in line with the National Universities Commission (NUC) Benchmark Minimum Academic Standard (BMAS). This practice has in 2018 led the University's Programmes gain over 99% full accreditation status for her Programmes from NUC, and from other regulating Professional bodies such as the Council for Regulation of Engineering in Nigeria (COREN), Computer Professional Registration Council of Nigeria (CPN), etc. The 2016 accreditation status of the various Programmes in the University of Uyo can be found on page 34 – 38 of the UNIUYO strategic plan.
Quality Assurance Unit
The University has a Quality Assurance Unit, with sub committees spread across departments, to ensure adherence to quality in teaching, research and community service. This policy has benefited students, greatly. A case in point is the Petroleum Engineering Programme in the department of Chemical and Petroleum Engineering where her students has on a consecutive basis won twice (2017 and 2018), the national competition for petroleum engineering students tagged "Petrobowl". As national winners, they are entitled to represent Africa in Houston Texas for the international version of the competition.
Directorate of International Programme
Strategy for regionalization to take advantage of the strengths of the institution in a regional context, and to ensure that a high calibre student body and faculty is recruited: The University of Uyo has a robust plan for regionalization. In this regard, the Office of International Programmes was established to provide students from other parts of the world with information and assistance on housing, language, cultural issues, and facilitate the sharing of information. In respect of ensuring that high calibre students and faculty is recruited, the strategies include:
Use of social and online marketing of the University brand: UNIUYO has an easy to navigate website that can be viewed on multiple devices and platforms. This website: http://www.uniuyo.edu.ng gives prospective students all they need to know about the university;
Upgrading hostel accommodation and other facilities;
A commitment to ensuring that the University calendar is strictly followed to ensure no student overstays he/she studentship.
Timely online and offline communications between the university and prospective students;
Mobilizing alumni networks and current students to be the University's brand ambassadors, maximizing the potential of merchandising;
Taking advantage of public events in order to draw greater public attention (e.g., inaugural lectures, conferences, or forums for prospective students).