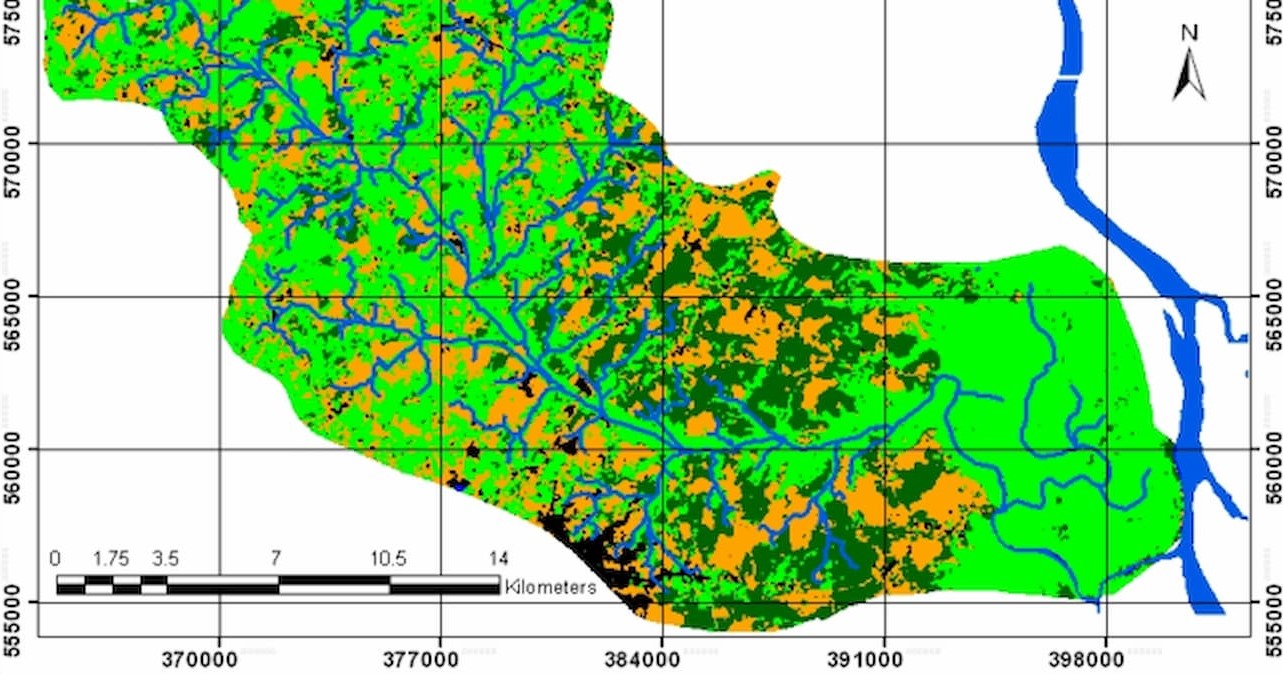 GIS and Remote Sensing
A research group, providing timely geospatial products and services for industry and government, specializing in the use of geospatial techniques and technologies [satellite and airborne multispectral and hyperspectral imagery, DEMs, client-provided data, GPS data and GIS] in environmental baseline and resources mapping/analyses/modeling.
The group is composed of dedicated and skilled professionals in Remote Sensing, GPS and GIS/related geo-spatial technologies, specializing in the analysis of satellite and airborne imagery, which is used in combination with a variety of complementary data sources and techniques, to characterize any landscape (urban and non-urban) as a spatial solution tool for complex planning & monitoring processes.
The group uses spatial analysis tools, Geographic Information Systems (GIS), Global Positioning System (GPS), Remote Sensing (RS) for data analysis and storage. Utilizes a range of best practice, industry standard, image processing and GIS (Geographical Information Systems) software, including ERDAS and ArcGIS. Combined with other complementary tools. This comprehensive range of geo-spatial mapping, modelling and classification capabilities ensure quality analysis and product output. A growing feature of the group entails partnering with other organizations to leverage complex skills compliments to collaborate on a multidisciplinary level. The group has been the partner of choice, in many projects requiring geographic image and data analysis, with both public and private sector organizations, both nationally and internationally.
Our activities cover an impressive range of thematic areas. Our most common application of these thematic areas is for environmental and agricultural applications.

Environment
Land cover/land use mapping and change analyses, soil erosion modeling, air & water pollution
Agriculture
Crop monitoring, crop acreages estimation, agrometeorological modeling, crop yield forecasting, precision farming
Urban studies
Urban mapping, baseline maps, multi-criteria based optimalisation, resource-demand tasks
Defence, security, hazards
Map update, terrain analysis, flood monitoring, multi-criteria risk analysis
Earth exploration
Oil and gas exploration, water resource detection, geological mapping
Forestry
Forest mapping & inventories, change detection, damage analyses
Infrastructure
GIS based management and planning, transport corridors mapping & monitoring

Team leader

Dr. Robert Ekpenyong

Senior Lecturer, Geography & Environmental Resource Management

Contact: robert_etim@yahoo.com +2348039452495

Akan A. Tom

Expert in Cartographic Design, Remote Sensing & Environmental Management

Contact: centom2012@gmail.com +2348069797058

Nyetiobong Williams

Expert in Environmental Science Research/Watershed Studies

Climate Variability in Relation to Floodplain Erosion and Water Quality Characteristics of the Ikpa River Basin (funded by the Ministry of Science and Technology South Korea through the International Environmental Research Institute Gwangju Institute of Science and Technology in 2018)
Mapping Ikpa River Basin and sub-catchments for watershed management decisions
Application of GIS in Land use/Landcover change detection/ Erosion risk and vulnerability analysis in Akwa Ibom State

2019

William, N., Ikpe, S., Abraham, C. (2019) Gully Morphological Dynamics, Topographic Elevation and Soil Properties in Parts of Akwa Ibom State Sub-Catchments of Qua Iboe River Basin. Conference Proceedings of UNICAL Faculty of Physical Sciences, University of Calabar
Akan T. (2019). Soil Physical Properties: A Determinant of Soils Susceptibility to Gully Erosion Menace InUyo Metropolis, Akwa Ibom State, Nigeria.

2018

Etim E. R and Ekpenyong R. E. (2018). Geospatial Analysis of the Incidence, Gap, and Severity of income poverty in Akwa Ibom, Nigeria. International Journal of Social Sciences 12 (3), pp 82-103.
Ekpenyong R. E., Ukpong I, Olajide S, Etuk I, Ebong M and Etim E.R. (2018). Geospatial Analysis of the Distribution of Mangrove Species along the Shoreline in Akwa Ibom State, Nigeria. Journal of Geography, Environment and Earth Science International 18 (3), pp 1- 22.
William, N. I &Ikpe, S. (2018) Geospatial Analysis of Nguru SE and SW sub-catchment of River Hadejia Basin, Yobe State, Nigeria. 2018 Nigerian Cartographic Association (NCA) Conference Proceedings
William, N. I., Nimnan, T. (2018) Contemporary Issues in Sustainability of Urban Ecological Landscape and Management for Tourism Development in Uyo, AkwaIbom State. Sahel International Multidisciplinary Journal, Federal Polytechnic, Damaturu Vol 3 No. 1

2017

Iniemem J., Uduak E., Ekpedeme R., Uwem B. A, Akan A. (2017): Hydrogeochemical Evaluation of Groundwater in Coastal Alluvial Aquifer of Akwa Ibom, Southeastern Nigeria. Journal of Coastal Sciences ISSN: 2348 – 6740 Volume 4 Issue No. 2 – 2017
William, N. (2017): Algebraic Modeling of the Interconnection among Morphometric Parameters in Ata ObioAkpa Gully Complexes, OrukAnam, AKS. Journal of Physical Science and Innovation ISSN 2277-0119 Vol 9, No2, 2017

2016

N. Akpan-Ebe, I. R. Udotong and R. E. Ekpenyong (2016). 'Ecological Consequences of Urbanization of Uyo Capital City, Akwa Ibom State, Nigeria'. Journal of Agriculture and Ecology Research International, 7(3): 1-12, 2016;
William, N. & Inam, E. (2016): Geochemistry of Catenary Soils in Ata ObioAkpa Watershed, OrukAnam. 58th ANG Conference Proceedings

2015

Jacob, D. E., Nelson, I. U., Okoh, K. S., A. A. Tom (2015). Trend in Land Use/Cover Changes In Stubbs Creek Forest, Akwa Ibom State, Nigeria. International Journal for Research in Business, Management and Accounting, Vol 1 Issue 1 December 2015
Ekpenyong, R. E. (2015). ''An Assessment of Mangrove Ecosystem for Sustainable Goods and Service Provision, Poverty Alleviation and Climate Change Mitigation in Akwa Ibom State, Nigeria''. Researchjournali's Journal of GeographyVol. 2, No. 4.
Ekpenyong, R. E. (2015). ''Analysis of the Locations of Land Cover Change in Akwa Ibom State, Nigeria''.Journal of Environment and Earth Science.Vol.5, No.8. www.iiste.org.
Ekpenyong, R.E. (2015) "An Assessment of the Concentration of Heavy Metals in Surface Water within Akwa Ibom State, Nigeria'' IOSR Journal of Applied Physics (IOSR-JAP).Volume 7, Issue 3. DOI: 10.9790//4861-07310813.