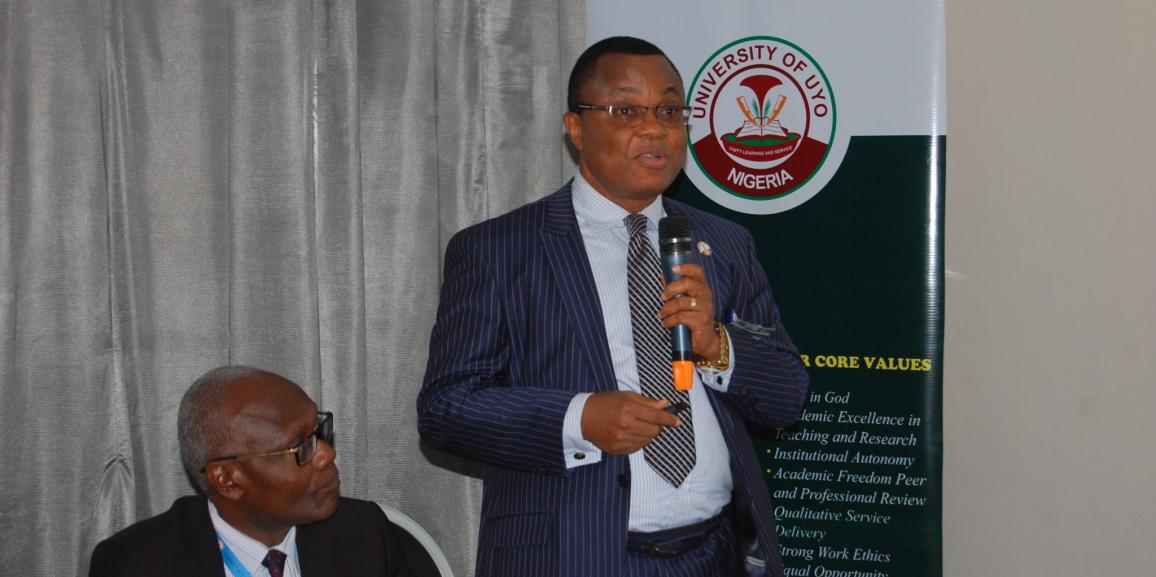 A call has been made to the Akwa Ibom State Government to convene an Environmental Summit aimed at charging solutions to environmental challenges in Akwa Ibom State.
The call was one of the highpoints of the 2nd UNIUYO and GIST Joint Programme Workshop hosted by the International Centre for Energy and Environmental Sustainability Research (ICEESR), University of Uyo and the Gwangju Institute of Science and Technology, South Korea.
It was held in Collaboration with the Lancaster Environment Centre, Lancaster University, United Kingdom, from June 13 – 16, 2016 at the Ibom Le Meridian Golf Resort, Uyo.
The Workshop commanded international energy and environment experts in the personalities of Dr. Kenneth Widmer of the International Environmental Research Centre (IERC), Gwangju Institute of Science and Technology, Gwangju, South Korea, Professor Kirk Semple, Dr. Akanimo Odon, Oluyomi Banjo of the UNIDO Regional Office, Abuja, Ambassador Ayo Olukanmi of the Fight Against Desert Encroachment Programme, Lagos and the University of Uyo Director, Centre for Energy and Environmental Sustainability Research (CEESR), Dr. Edu Inam, who is the facilitator and host of the workshop.
In her welcome address, Dr. Edu Inam noted that most countries in Africa still fall below in basic sanitation and listed the drive for industrialization, population explosion, urbanization and changing food patterns as putting pressure on the environment.
She bemoaned the Nigerian nay Akwa Ibom State situation where open defecation is still in practice, waste burning as the preferred method of disposal, poor sanitation and hygiene and listed the cities of Onitsha, Kaduna, Aba and Umuahaia which ranked as the first, fifth, sixth and sixteenth on the air pollution index in the world, hence the need for a summit in Akwa Ibom State to save the state from the menace of land waste and contamination.
Furthermore, she also reiterated for the achievement of sustainable development goals especially – goals 3,7,11 and 13 which has to do with good health and well being, affordable and clean energy, sustainable cities and communities and climate change and strongly oined for the efficient management of all forms of waste in Akwa Ibom State, Nigeria.
With more than 25 thought provoking question and answer driven lectures from very distinguished environmental experts across the globe, including top officials of the Federal Ministry of Environment, Abuja, the event featured goodwill messages from the Vice-Chancellor, University of Uyo, Professor Enefiok Essien, Ms. Itoro Inoyo, member, board of trustees of CEESR , represented by Barrister Abasiubong Ekong Bassey.