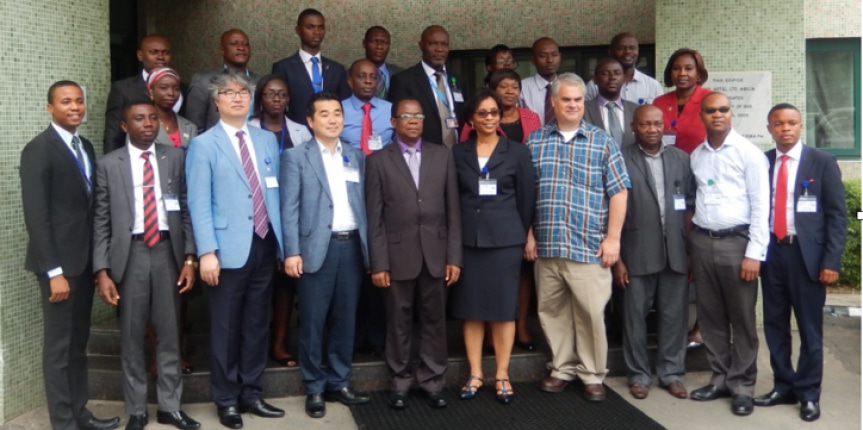 The first UNIUYO & GIST Joint Programme workshop was held in Abuja, Nigeria from June 15 to 18, 2015.
The theme of the workshop was "Water Security for a Sustained Transformation". Participants were drawn from Gwangju Institute of Science and Technology (GIST), South Korea, Federal Ministry of Water Resources, Federal Ministry of Environment, Abuja Water Board, Akwa Ibom State Ministry of Science and Technology, Akwa Ibom State Ministry of Environment, National Environmental Standards and Regulations Enforcement Agency (NESREA), Oxfam, and University of Uyo (UNIUYO) among others. In her welcome remarks, the Director, ICEESR, Dr.Edu Inam noted that the aim of the workshop was to provide a platform for exchange of knowledge and research experiences from different disciplines and countries.
Th workshop aims to address key issues relating to water security, hoping that the workshop will present opportunities for networking and collaboration among participants, particularly between those from developing countries in Africa and a developed country South Korea as well as provide an avenue to engage in discussions about new trends in scientific research. She specially thanked International Environmental Research Centre, Gwangju Institute of Science and Technology, United Nations Development Programme, United Nations Office for South-South Co-operation in South Korea, Vandrezzer Energy Company, University of Uyo ICEESR, and others, whose efforts contributed to the success of the workshop.
The University of Uyo delegation was led by Prof. Anthony Akpan, former DVC Academic, who also represented the Vice Chancellor, Prof. Mrs. Comfort Ekpo. In a communiqué the participants expressed appreciations to UNIUYO & GIST and unanimously agreed that better water resource management is needed throughout the African region, with four main focal points enveloped within this concept: Monitoring, Treatment, Management, and Sustainability.