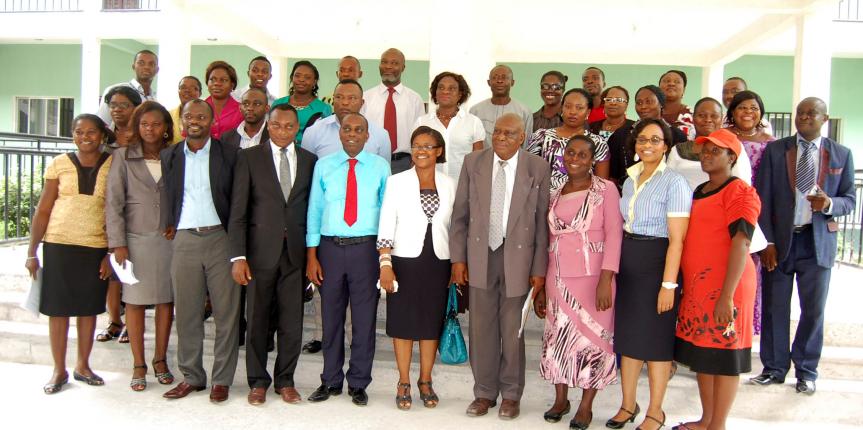 ICEESR in partnership with the Faculty of Sciences University of Uyo organized a training workshop in "advanced analytical protocols and laboratory safety" for technical staff and postgraduate students in the faculty.
The training was sponsored by the University of Uyo and took place on April 23, 2014. Declaring the workshop open, the Dean of the Faculty, Prof. G. Esenowo, urged participants to take the training seriously and thanked ICEESR for the opportunity given to two staff in the faculty to participate in a training in GIST, Korea.
In his remarks, the Deputy Vice Chancellor (Academic), Prof. Paul Ekwere, who represented the Vice Chancellor, Prof. Comfort M. Ekpo said, the University was seeking funding through TETFUND to acquire modern equipment to strengthen research capacity within the University.
The training was therefore very timely as there was need for technical staff to be updated in operations of such equipment. He urged researchers in the faculty to apply for grants from TETFUND to facilitate excellent research outputs.
In her speech, the Director of ICEESR, Dr. Edu Inam said ICEESR will deliver on its mandate of innovative research outputs as well as human capital development. She employed all to support ICEESR.
The resource persons were Dr. Joseph Essien (Associate Professor of Environmental Microbiology) who spoke on Advanced Analytical Protocols and Mr. Saviour Udo (Geologist) who presented on Laboratory Safety Ethics. Fifty (50) participants drawn from the different departments within the Faculty attended the training.